Hej! The best beaches in Stockholm, you ask? You might think Stockholm's all about trendy design, hipster cafes and sleek architecture. To be fair, most of the water around the city looks like it's best to stay out of to not get run over by a boat. But let's change things up a bit. Time to shake off the city dust and head towards the sun, sand, and sparkling water. Yep, we're talking about the city's finest beaches – perfect for chilling, taking a refreshing dip, or simply kicking back with a good book. So, ready to see a different, laid-back side of Stockholm? Stick around, and let's dive in together.
What Makes Stockholm's Beaches Unique
Who would've thought that Stockholm, often associated with its stunning archipelago, also hosts a series of amazing beaches? That's the beauty of this place – it keeps surprising you.
First off, these beaches are super accessible. Right in the heart of the city or just a short ride away, they make escaping the urban hustle a breeze. So, whether you're a local seeking a quick getaway or a tourist craving a touch of Swedish summer, these beaches are never too far away. It helps that public transportation is readily available everywhere in Sweden, and especially in Stockholm. Most beaches in Stockholm are also handicap accessible which is a big plus!
Another thing that stands out about Stockholm's beaches? Their diverse nature. Some are bustling with life, where you can play beach volleyball or grab a bite at a nearby café, while others offer tranquil spots perfect for a peaceful swim or a quiet day of sunbathing.
Cleanliness and safety are other big pluses. These beaches are well-maintained, so you don't have to worry about trash lying around or water quality. Lifeguards are typically on duty during peak season, and facilities like restrooms and changing rooms are well taken care of.
Lastly, but not least, the beaches of Stockholm often offer fantastic views of the surrounding archipelago. Imagine lounging on the sand with a panoramic view of serene water and charming islands dotting the horizon – pretty dreamy, right?
So, ready to dip your toes into Stockholm's best beaches? Let's dive into the details, starting with Tantobadet. Buckle up for the sun-soaked adventure ahead!
The Best Beaches in Stockholm
Tanto Strandbad
First up, let's head to Tanto Strandbad, a local favourite right in the heart of Stockholm. This beach, found in Tantolunden park on Södermalm, is like the city's own little summer retreat. Whether you're keen on a refreshing dip or just fancy some sunbathing time while observing the lively surroundings, Tantobadet has got you covered.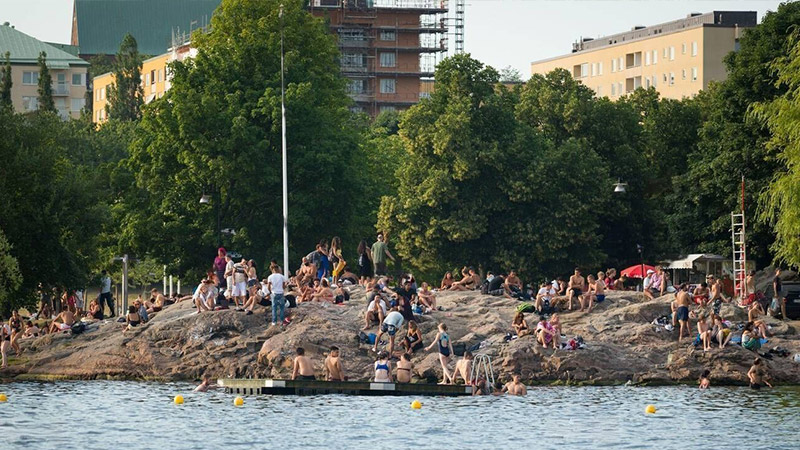 Getting there: Just take the metro to Zinkensdamm and it's a short stroll from there. View on Google Maps »
Facilities: Expect basic facilities like changing rooms and showers. Also, you're in the vicinity of cafés, so grabbing a fika (a Swedish coffee break) is easy peasy!
Nearby attractions: After a day at the beach, why not explore the hip Södermalm district, renowned for its bohemian shops, trendy bars, and art galleries?
More details can be found in our beach guide here: "Tanto Beach in Stockholm"
Brunnsvikens Strandbad
Next stop, Brunnsvikens Strandbad. It's a family-friendly beach located near Stockholm University. The calm, shallow waters make it ideal for families with little ones, and the surrounding parkland is perfect for a picnic.
Getting there: A bus or tram ride to Universitetet, followed by a short walk, will get you there. View on Google Maps »
Facilities: You'll find a play area for kids, as well as toilets and a small kiosk selling refreshments during the summer.
Nearby attractions: The Swedish Museum of Natural History and the beautiful Bergianska trädgården, a botanical garden, are both within walking distance.
Fågelöudde på Lidingö
Fågelöudde is a gem located on the island of Lidingö. This beach features a lovely sandy beach, a jetty, and even a diving tower for the more adventurous!
Getting there: Reachable by bus from Ropsten metro station, but also a great place to bike to if you're up for it. View on Google Maps »
Facilities: There's a kiosk on site, along with a miniature golf course for some extra fun. There's also a playground and diving platform.
Nearby attractions: Check out Millesgården, an art museum and sculpture garden, while you're on Lidingö.
Flatenbadet i Skarpnäck
Flatenbadet is a charming beach in Skarpnäck, renowned for its clear water and beautiful surrounding nature, which is perfect for hiking. The lake Flaten is one of the cleanest in Stockholm and has a beautiful trail leading around it.
Getting there: Take the metro to Skarpnäck, and from there it's a short bus ride. View on Google Maps »
Facilities: A kiosk, toilets, mini-golf, barbecue area, playground, beachvolleyball, outdoor gym and more makes this beach a great spot for a full-day outing.
Nearby attractions: Enjoy the nearby nature reserve for a pleasant hike after your swim.
Trouville on Sandhamn
Last, but not least, Trouville on the south side of Sandhamn island offers you the chance to experience beach life on one of Stockholm's outer archipelago islands. It is famous for it's long white beach and a popular spot for sunbathing and swimming in clear waters.
Getting there: Take a ferry from central Stockholm. The journey is part of the fun, offering stunning archipelago views. It is a 20 minute easy walk from the Sandhamn harbour. View on Google Maps »
Facilities: Public toilets are available.
Nearby attractions: Exploring the picturesque island of Sandhamn is a must. Its narrow lanes, charming houses, and local shops are captivating.
Each of these beaches has its own unique charm, so why not add them all to your summer bucket list? Trust us, they're well worth a visit. Onwards to some tips for beach-goers next!
Smedsuddsbadet
Right in the city center, we find Smedsuddsbadet. This bustling beach on Kungsholmen is a favorite among locals, boasting a sandy beach, a large green area, and even a mini golf course. Perfect for those who want a quick dip without venturing far from the city's pulse.
Getting there: Just hop on the metro to Fridhemsplan or Rådhuset, and it's a brief walk from there. View on Google Maps »
Facilities: Alongside the beach, there are toilets, changing rooms, and kiosks where you can buy ice cream and other treats during the summer.
Nearby attractions: Don't miss a walk around the scenic Rålambshovsparken, or maybe grab a bite at one of the trendy restaurants in Kungsholmen after your day at the beach.
Erstaviksbadet
For those willing to travel a bit further, Erstaviksbadet is a gem located southeast of Stockholm city. This spacious, idyllic beach is known for its sandy dunes and pine trees, creating a sense of being far from the city hustle, even though you're only about 20 km away.
Getting there: Take a commuter train to Saltsjöbaden, then a short bus ride to Erstavik. The trip is worth it! View on Google Maps »
Facilities: You'll find basic facilities like toilets and changing rooms. There's also a café nearby for snacks and refreshments.
Nearby attractions: Enjoy the beautiful woodland trails around Erstavik for a hike or a jog, and don't miss the charming Saltsjöbaden area with its grand turn-of-the-century architecture.
Tips for Beach-Goers in Stockholm
Embrace the Fika Culture: When in Stockholm, do as the locals do! Enjoy a classic Swedish fika at a nearby café or pack your own. Some good bread, cheese, and the quintessential Swedish cinnamon buns can go a long way!
Timing is Everything: Swedish summers are magical, but they can also get busy. The most popular and best beaches in Stockholm fill up quickly in July and August. To secure the best spot, try to get to the beach early. Also, remember that the sun sets quite late in the summertime, so feel free to plan for an evening swim.
Respect the Space: The Swedes are big on personal space, and this extends to the beach too. Try not to set up your towel too close to your neighbour's.
Sun Safety: It may not be the Mediterranean, but the sun can still pack a punch. Don't forget your sunscreen, a good book, and perhaps an umbrella for shade.
Public Transport is Your Friend: The public transport system in Stockholm is reliable and reaches most beaches. Make sure to check the latest schedules on the SL website.
Be Mindful of Nature: Many of Stockholm's beaches are near natural reserves. Respect these areas by sticking to paths and cleaning up after yourselves.
So there you have it, folks! Now you're all set for an adventure with this list of the best beaches in Stockholm. Whether you prefer bustling, city-central beaches or more peaceful, secluded spots – this city has something for every beach lover. But don't just take our word for it, get out there and see for yourself!