Tanto Beach is located in Årstaviken (Årsta bay), close to Drakenberg Park in Stockholm, Sweden. It is as much of a beach you're going to get in a city built on gneiss and granite rock, meaning pretty small. The area is mostly big grassy fields with a small patch of sand and rocks. Nevertheless it is a popular place where many locals go to cool off. There are two docks as well as a jumping tower.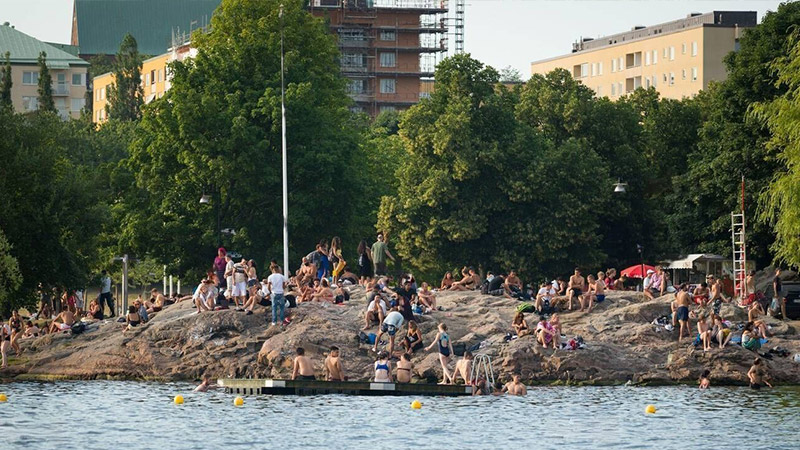 Tanto Beach is handicap accessible, even for taking a bath. There are toilets and showers as well in the area but nowhere to change. So put your swimwear on under your regular clothes or change under a towel.
If you need to cool down you can find cafés, ice cream vendors as well as restaurants nearby.
How to get to Tanto beach?
You can reach Tanto beach with public transportation. The closest subway station is Hornstull, and from there it is just a couple of minutes walk through Tantolunden (Tanto Grove) down to the water. It is also easily accessible by bicycle, a popular transportation method in Stockholm.
There are no assigned parking spots for the area so you will have to rely on nearby street parking. But these spots quickly run out in the summertime.
Find directions to Tanto beach on Google or by using the map below.
We hope you enjoy your time when you visit this great and cozy beach. Just do as the Swedes do. Go to the closest grocery store with your friends and pick up a disposable grill and some spicy hotdogs and buns to cook in the park. A great way to spend an afternoon in one of the most beautiful capitals in Europe.
Read more
Also see