Denver, fondly referred to as the "Mile-High City," is nestled at the foothills of the Rocky Mountains. Its unique positioning offers breathtaking views of both urban development and natural beauty.
When you talk about a scenic skyline, Denver surely ranks high on the list. Here's a comprehensive guide to the best vantage points and some lesser-known spots where you can admire Denver's skyline in all its glory.
First, let's dive into the background a bit. Denver's skyline, while urban, tells a story of the city's rich history. From the early gold rush days to its current modern-day renaissance, each building narrates a chapter of Denver's journey.
When you're searching for the perfect view, keep in mind that you're not just seeing tall buildings, but a mosaic of Denver's past and present.
Denver Performing Arts Complex
The Denver Performing Arts Complex, a hub for the arts, is not just famous for its theatrical performances. It's also a top pick for skyline enthusiasts. Situated in the pulsating heart of Denver, this architectural marvel offers dual treats: world-class performances inside and breathtaking views outside.
I recall a time when Jane, a close friend of mine, visited Denver for the first time. She was in town to catch a play at the Denver Performing Arts Complex. While she raved about the play, what truly left an indelible mark was the unexpected bonus — the panoramic view of Denver's skyline from the complex's terrace. As the sun set, casting a golden hue over the skyscrapers, she was mesmerized. It was, in her words, "a blend of man-made marvels set against the backdrop of nature's beauty."
So, if you're thinking of a play or concert at the Denver Performing Arts Complex, consider arriving a bit early or staying a tad longer. It gives you ample time to wander around, grab a coffee, and take in that unforgettable Denver vista.
But that's not all. Denver, with its vast landscapes and strategic urban positioning, offers numerous other locales for that perfect skyline shot. In the coming parts of this guide, we'll uncover more such spots, from popular landmarks to hidden gems, ensuring your Denver experience is truly elevated.
Denver Museum of Nature and Science: Anschutz Family Sky Terrace
When it comes to panoramic views of Denver's mesmerizing skyline, the Anschutz Family Sky Terrace at the Denver Museum of Nature and Science undoubtedly takes a top spot. Nestled atop a hill, the museum's strategic position allows for an unparalleled vantage point. As you ascend to the terrace, you're greeted with a view that spans from Denver's sprawling urban expanse to the serene, distant mountains.
Last summer, a family from Texas, deeply engrossed in the museum's exhibits, stumbled upon the Sky Terrace almost by accident. Their children, Lucas and Mia, rushed to the edge, their faces lighting up with wonder. "It's like seeing two worlds at once!" Mia exclaimed, pointing at the juxtaposition of the bustling city below and the peaceful mountains beyond.
While the museum itself offers a plethora of knowledge about our natural world, the Sky Terrace adds a touch of Denver's urban charm to the mix. So, after exploring the museum's intriguing exhibits, allow yourself a moment of relaxation on the terrace and let the beauty of Denver wash over you.
Prost Brewing Company: Sip and Sightsee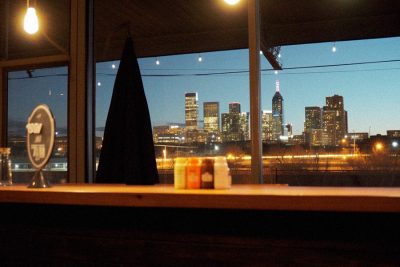 For those who wish to marry the delight of a craft beer with the pleasure of a skyline view, Prost Brewing Company stands out. Located just a stone's throw from Denver's bustling center, this brewery offers an ambiance that's both lively and laid-back. Its design and location effortlessly showcase Denver's skyline, especially as the day turns to dusk and city lights begin to shimmer.
A couple of years back, I met Oliver, a travel blogger, who was on a mission to find the best cityscapes across the U.S. He mentioned that while many places offered great views, combining it with a local brew was the cherry on top. "There's something magical about sipping a fresh brew and taking in a city's essence from a distance," he mused while at Prost Brewing.
As you explore Denver, don't rush. The city, with its blend of natural beauty and urban sophistication, has countless treasures waiting to be discovered. Whether you're atop a hill at a museum or relaxing in a brewery, Denver's skyline promises to leave an everlasting impression.
Be sure to also check out our blog post about street art in Denver.
Final thought: Denver, with its mountainous backdrop and vibrant urban life, truly offers a diverse palette of experiences. As we continue to explore and expand on these locales, remember, the city's essence is not just in the renowned spots but also in the quiet corners and unexpected vistas. Stay curious, and keep exploring!