Tortuga Backpack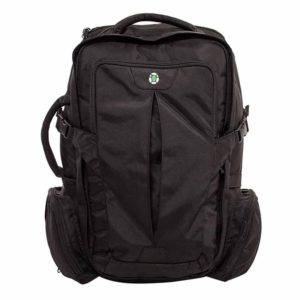 I'm currently sporting the original Tortuga travel backpack and it has been with me for 3 years so far. It's a great backpack, a little bit heavy but it fits everything I travel with into just 44 L (22 x 14 x 9″). Because of the size it has so far met every airlines carry on requirements, both for premium and low cost airlines. It's also great at keeping my stuff organised, it's lockable, has a padded hip belt and a padded laptop sleeve. Check it out on Amazon ($149).
The creators of the pack have created a newer version since I bought mine, The Outbreaker Travel Backpack which you can pick up for $249 on their website.
MacBook Pro Retina 15″
I bought my first MacBook right before I started traveling and I've not regretted it a single time. Three years later it's still with me and running just as fast as when I bought it. Upgrading from cheap PC laptops to a premium MacBook has been my best decision for a traveling
workhorse, and even though they are pricey, they're worth it. Here's a link to my version.
It is a bit heavy though, so if you don't work with heavy graphics and video editing I'd advise to pick up a smaller laptop like the MacBook Pro Retina 13″ or the MacBook Air.
iPhone 6 
A bit on the old side by now, but still works great and takes good pictures. Most of the pictures from my Instagram are actually taken with this one. One of the most essential tools I have. If you can't afford a brand new one, the official refurbished iPhone 6 can be picked up for only $333.
Samsung NX300 with 18-55mm lens
When I'm not too lazy I bring this one with me. Great for both photography and videography. With the built-in Wi-Fi functions it's easy to quickly transfer pictures to your phone or laptop on the go, you can even control it with your phone and use a remote viewfinder or have pictures instantly transferred to your phones photo library. Read more about it here.
It's also pretty big so I'm currently looking for something smaller, but overall it's a great camera.
GoPro Action Camera
A great and small little camera to have in your daypack is of course the GoPro. I love this thing and its always with me on road trips and excursions. Available in many different versions there's definitely one that fits you and your price range.
Be sure to also get a handy 37″ POV pole so you can film yourself or hard to reach places.
Kindle Paperwhite eReader
When traveling light is key, books are not ideal, even in pocket form. The battery life lasts for weeks and with unlimited books to choose from it's a no brainer. Look up the different Kindles here.
WD MyPassport 2TB Ultra – Portable Hard Drive
Traveling with a lot of electronics that contain tons of information, it's great to keep an extra hard drive to back up all those files. With 256-bit encryption it keeps all my backups, photos and files safe. Look it up here.
Anker PowerCore 1000 mAh
Powerbanks are way too underrated. As much as I use my phone I always carry this one with me so that my phone stays alive. Pro-tip; be sure to get one that says it can charge tablets so that you can use it to charge your cameras as well.
Anker makes powerful but small power banks that definitely should be considered. You'll find this one right here ($24).
Petzl e+LITE Headlamp
Many travellers recommend bulky headlamps, but this one is both super tiny and lightweight which is great because you won't really use it that much. However it is great to have when the power goes out in a remote part of the world.
I actually picked up my Petzl from a previous job I had, and I really recommend the e+Lite. It's also waterproof, resists extreme temperatures and it's cheap! Check it out here.
Zoppen International Travel Adapter
Not much to say here, a must have on all travels. Be sure to get one with USB ports as well for extra convenience. This one is just $19 online while a lower quality one on an airport will set you back at least 20 bucks. Look it up right here.